A complete Cloud-based software to administer all your merchant affairs, all at one place
Vendor risk management software handles all the buying process by recognizing the needs of the purchasing department within a company. The vendor management tool is made accordingly, keeping the needs of an organization to accommodate them by mechanizing the procedure of acquiring and leading suppliers. From the point of receiving, it makes sure of a slick pathway while expanding the interaction between the owners.
How will the vendor management software facilitate your business?
Strengthen interaction, smooth procedures & saves plenty of time altogether with vendor software
The perfectly tailored vendor management solution to your business needs, extremely easy to accommodate through a multi-vendor marketplace. Vendor software is a bit quicker to work with as it allows businesses to refine the vendor management tools with increased effectiveness overall.
Your vendor risk management software provides all the analysis on a vendor's performance, their credibility and reliability, their customer service and accurate deliverable, contract management, and robust internal collaboration among the organizational team. A vendor management solution helps your company to accumulate a booking on behalf of a business, automate all the payments and invoices, collect information while storing all of it in the database as in every single detail about an employee, their pay, etc. Choosing a suitable vendor management software can be crucial and a weary decision, and to make a business established, the venture's platform should be integrated with the befitting technology, business strategies, and all the efforts according to the business needs. Every business requires suppliers at some point. Vendor software manages all the invoices, deliveries, agreements, transactions, bookings, and requests, etc. Vendor management tools complete all these operations instantly; this increases productivity while reducing the usual operations time.
Unique features of vendor management software
Manage your suppliers with the smart and mechanized tools combined within your vendor software
The vendor risk management software enables your employees to check the suppliers presentations and analyze their progress throughout to be posted with real-time feedback.
The vendor software helps the admin and employees to locate the real-time activities of all the vendors together and evaluate their response stature at different affairs.
By having impeccable vendor software, you can obtain real-time locations of the sold articles and review their performances on the basis of algorithms and numbers.
This is the most important of all as it enables a business to integrate their software with their website, emailing solution, and IT systems as well for better performance.
For hiring a vendor, a few rudimentary protocols have to be followed, as in the data regarding the vendor, their credibility which vendor software helps with.
Vendor risk management software assists in grasping all the information and any changes to occur in the background information from time to time.
Benefits of Vendor Management System
Bring your business to the peak of establishment with a vendor management solution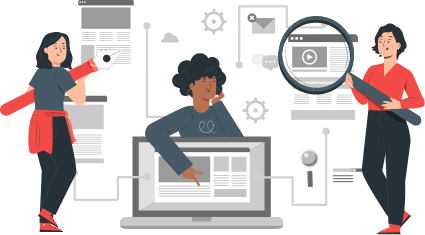 The vendor software allows complete visibility to incidental workforce figures; when you hire your suppliers, the process is visible while the outlook is executive.
Projects including leg work happen to consume plenty of time which results in errors that cost a fortune, vendor software automates operations to eradicate those.
The smart vendor risk management software helps to do money and time saving purchasing by increased supplier management combined in the platform.
Get your operations running smoothly without any troubles, arrange all your tasks and projects to empower your employees by working together effectively.
Those industries which utilize the unique vendor software
The vendor management software facilitates all operations in the following industries by automating them to lessen the time
Consumer Goods & Services
Consumer Goods & Services
Grasp the vendor solution to make your business operations easier
Get exclusive information about the vendor risk management software