Learning Management System
Instruct your staff using advanced and efficient Learning Management Software
The learning management system is a cloud-based software utilized by different organizations and schools to control all facets of the learning process. It makes this process swift and hassle-free by having processes hands-on. It can examine and inspect the goals of a company while directing the instruction process.
State-of-the-art and ultra-modern LMS software
Offer a gratifying training experience for all with LMS Systems
Learning Management Software is an automated system preferred by many firms and companies to instruct their staff throughout the period of integration within the company. With this system, newcomers can gain all the essential knowledge about their organization, like every product or service that the company provides, the level of quality, and gaining all the abilities that will aid them in getting their tasks done in an efficient way. The best learning management system aids in the development of the skills of all staff members while strengthening the retention levels for an organization.
It enables you to offer web-based training courses to all employees so they know about any big changes taking place, acquiring fresh skills or honing in on the existing ones, and awareness of recent trends. This system is also preferred by tech and software companies to train consumers to operate their products.
The top learning management systems are also utilized by schools to encourage and guide teachers to distance themselves from conventional teaching methods for more innovative ones. It tracks student performance throughout the course. It allows you to know where to concentrate the focus and where changes are needed.
Learning Management System features
Gain modern teaching techniques with the Learning Management System Software
Course management software is equipped with tools to arrange learning materials and aids like pictures & texts, creating a web course.
Securely handle and keep all information of each course, make supervisory roles, course indexes, & channels within the LMS system.
Evaluations & Assessments
LMS helps you create assessments to test students' know-how and retention levels and pass or fail them based on this.
It helps you keep tabs on and inspect the learning figures and improvements of candidates; standards reports are also prepared.
Training management system aids you in controlling & tracking learners' information that includes their progress, course rates, results & test scores.
Learner collaboration features in the LMS system to encourage and develop strong interaction through the sharing of courses, blogging, etc.
You can create virtual classrooms for live lessons. Teachers can organize planned classes that students can participate in using webcams.
Benefits of Learning Management System
Utilize the cloud-based learning management system for your organization to get bundles of benefits!
Organizing Learning Materials
The online Learning Management System uses a central database to easily and safely store the data in an organized way.
With LMS, you can ensure that students are completing their milestones on time by tracking progress and providing supplementary materials.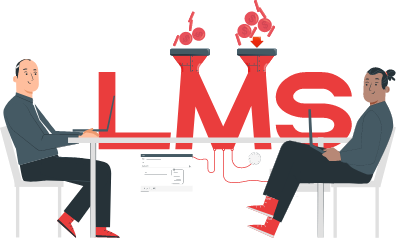 LMS brings down costs to a larger extent by removing housing of instructors, physical copies of learning resources, etc.
It ensures that you are fully aware of frequently modifying updates. LMS aids you in keeping course's law compliance.
LMS system for various organizations!
The following industries have revolutionized their training methods and techniques by using the LMS system
Drop us a message to learn how you can improve your training techniques with LMS!